Orange Order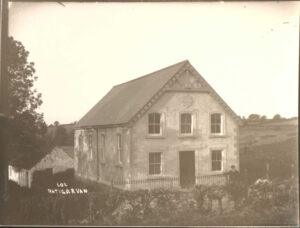 An Orange lodge has been operating in the Bready area from at least the middle of the nineteenth century. In 1856 the Worshipful Master was James Dunne. Originally the lodge was known as Cloghogle LOL 334. Bready has hosted Twelfth celebrations from as far back as 1881. The earliest surviving minutes of the lodge take the form of a loose sheet of paper from 1884 when the Worshipful Master was William King. Surviving from even earlier than this is a rather damaged ledger listing the names of members from 1879 onwards. Among the earliest surnames in this volume are McCorkell, Henderson, Thompson, Hutcheson, Wilson and McDermott. About 1910 an Orange Hall was built in the townland of Sollus on the east side of Victoria Road in Bready. From this time on the lodge was known as Bready LOL or Sollus LOL. It also had the name Foyle Purple Heroes. When a new school was under construction in Bready in 1929 classes were held in this Orange Hall. On 16 November 1934 a local branch of the Apprentice Boys of Derry was formed in Bready Orange Hall. The first president was John Ashenhurst, while Samuel Colhoun was secretary and James Craig treasurer.
Bready Pipe Band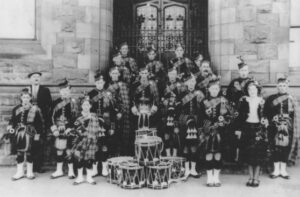 There are records from the 1850s of a flute band from Bready leading the local lodge at Twelfth demonstrations. In the years after the Great War of 1914-18 many veterans recalled the effect that pipers had on morale in the Scottish and Irish regiments. In 1929 local people formed a pipe band in Bready. Using second-hand pipes and drums the band attended its first Twelfth in July of that year with Willie Doherty as pipe major. Willie Doherty led the pipe band until the early 1960s, taking time out to serve in World War II. His successor was Leslie Campbell whose involvement with the band began in 1942 when he was aged fourteen. Bill Walker took over as pipe major in the late 1970s. The band started competing in competitions in 1977. In 1979 the band was second in the All-Ireland Championships, and in 1981, 1983 and 1984 it was Northwest Champions. In 1982 Bertie Campbell took over as pipe major and in 2000 he was succeeded by his son Robert.
The band was upgraded to Grade 3 in 1989 and achieved many successful competition results including:
Runners up in British Championships (1995, 1996)

Runners up in All-Ireland Championships (2002)

Runners up in World Championships (2003)
The Drum core has been Ulster Champions several times, British champions three times and All-Ireland Champions in 2002. Bready Pipe band was renamed Bready Ulster Scots Pipe Band in 2004. Greame Stenhouse – Governor of the Apprentice Boys of Derry is the Honorary President of the band.
In 1999, Bready Ulster Scots Junior Pipe Band was formed to prepare young members for entry into the senior band. Their greatest achievement was 4th place in the British Championships in their debut season in Novice Juvenile Grade.
The Bready Ulster-Scots Pipe Band is still going strong today under the direction of Pipe Major Darren Milligan & Drum Sgt. Richard Campbell. Whilst performing at pipe band competitions the band also takes part in various local events including The Walled City Tattoo, with members also playing at Tattoo across the world including Moscow and New Delhi.
Sollus Highland Dancers
Sollus Highland Dancers was formed in 2001. Their first tutor, Iain was connected to a Scottish regiment based in Londonderry but due to redeployment Iain was replaced by Mischa Dodds (Edinburgh) in January 2002. Mischa helped to build up the dance team and trained up current dance tutor Georgina Kee-McCarter.
The group in their short history have recorded phenomenal success in the competition arena, the highlight being crowned European & Ulster Choreography Champions.
Performing in showcases & festivals has seen some of the dancers travel right across Europe to places such as Holland, Switzerland, Germany, France, Belgium plus numerous events in Britain including Windsor Castle for the Royal Family.
Sollus Highland Dancers currently have 9 qualified tutors and teach almost 900 young people weekly in local schools and community groups. In 2019 the group were awarded the Queen's Award for Voluntary Service, an MBE for volunteer groups.
Bready & District Ulster-Scots Development Association
Bready & District Ulster-Scots Development Association was formed in 2001 to facilitate the examination, exploration and appreciation by all of Ulster-Scots history, heritage, and culture in an open and positive manner.
They were established as a charitable organisation in 2003 with the main purpose of "promoting and preserving the Ulster-Scots culture and heritage of local people".
Based at the Sollus Centre in Bready, they serve the local community and surrounding district by offering a range of activities and events which support the understanding and celebration of the Ulster-Scots rich contribution to the life of Northern Ireland.

To explore more about Bready & District Ulster Scots Development Association visit our website: www.breadyulsterscots.com
"We are passionate about promoting the culture and heritage of the Ulster-Scots of Bready and the surrounding areas."
Contact Bready & District Ulster-Scots Development Association to find out more