Explore History
The Bready area has a fascinating history stretching back thousands of years. A few remains of earlier settlements have survived, including standing stones, ringforts and souterrains.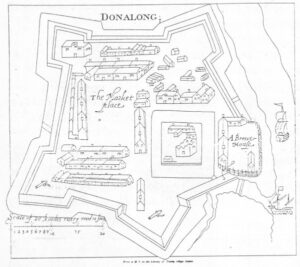 In the medieval period a monastery was founded at Grange where the old burial ground now is. In 1568 Turlough Luineach O'Neill, chieftain of the O'Neills, built a castle at Dunnalong, the site of an important crossing of the River Foyle and a customary landing place for Scottish mercenary forces arriving in north-west Ulster. In 1600, during the Nine Years' War, an English army built a star-shaped artillery fort at Dunnalong and established a garrison here which at its height numbered more than 1,000 men.
In the early 17th century most of the townlands in the Bready area were granted to the 1st Earl of Abercorn and formed part of the manor of Dunnalong. In the course of the 17th century these lands were settled by people from Scotland, giving the area a distinctive Scottish feel that survives to this day. Most of the people who lived in the Bready area were farmers or were labourers employed to work on farms. A few individuals owned mills and shops and there were some fishermen, teachers and ministers. The churches in the Bready area are Magheramason Presbyterian Church, Bready Reformed Presbyterian Church and Dunnalong Church of Ireland. Bready Primary School was founded in 1834.
We hold over 30,000 records dating back to the 1600's from Bready area of north County Tyrone
Search our database records for free and discover your family history